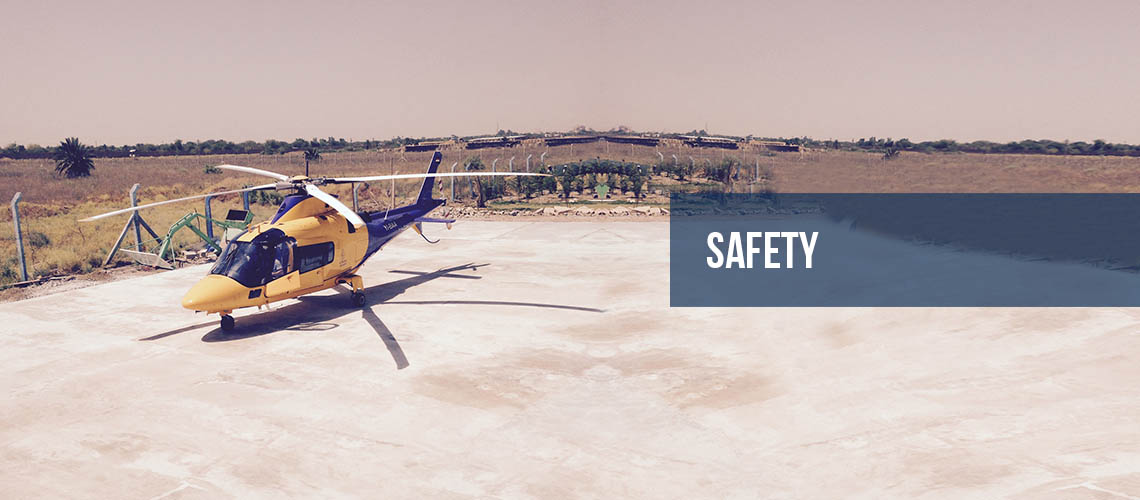 Safety Management System
Al-Burhan Airways has an excellent safety record with no accidents since its start in 2014; safety is our core value and the foundation of everything we do. Even though we have an exceptional safety record, we constantly strive to find ways to make our operations as safe as possible.
To help achieve our safety goals, Al-Burhan Airways has implemented a Safety Management System (SMS) for the entire company. The first step to analysing risk commences with the Safety Manager who reports directly to the Accountable Manager, ensuring that the highest level of management is aware of any safety concerns, thus enabling decisions to be made regarding areas of perceived weakness within the company in a timely manner. We are proud to have a proactive approach to safety. The Safety Manager is able to deal with incidents directly, ensuring that they are resolved expertly, swiftly and accurately therefore minimising any risks.
Al-Burhan Airways' SMS utilizes an online reporting program which is also used by world leading airlines known as Q-PULSE, which allows employees to report any hazards or incidents from any location, at any time and anonymously, if preferred. The report is then automatically emailed to the appropriate managers for an immediate response. Once a hazard is reported, it is stored for documentation and also used in trend analysis that alerts management to any hazards or risks that could be minimized by improving procedures or other means. Moreover, with the Q-PULSE system employees are able to interact with company documents such as manuals and safety bulletins.
Standard Operating Procedures
The Flight Operations Manager, Quality Manager and Safety Manager establish and enforce Standard Operating Procedures (SOPs) to provide safe and consistent day-to-day operations. These standards are continuously reviewed at monthly safety meetings with the safety team and crew.
Regular safety audits in addition to in-house audits are conducted by an international independent auditor who reviews our operations and standards.
In addition we hold regular meetings with ICAA, ATC (SERCO), and other operators flying in the same airspace to coordinate route, position reporting, and safety procedures.
Flight Crew
We perform an enhanced screening of our pilots including checking qualifications, experience and records. Minimum pilot qualifications are designed to comply with OGP requirements.
Our Pilot Training and Examinations emphasize the utmost standard of professionalism, safety and attention to detail in compliance with EASA Regulations and company SOPs. Additional training is required for crew resource management, dangerous goods, emergency first aid, night vision goggles (NVG), recovery from adverse weather conditions, aircraft performance planning and emergency procedure training.
Maintenance
Al-Buran Airways is proud to conduct its maintenance to the highest standards of EASA regulations. Our technicians are Airframe and Powerplant (A&P) licensed mechanics with extensive helicopter experience. Additional technical training is performed on a continuous basis including factory training courses.
Aircraft
Our Leonardo AW109E aircrafts are equipped with 2 VHF Radios, an Emergency Locator Transmitters (ELT), and a Mode S Transponder allowing radar tracking and flight following.
Aircraft visibility enhancing equipment is used including a powerful search light and additional landing lights, high-visibility rotor blades and strobe lights, as well as equipment which meets EASA regulations governing IFR and night VFR instrumentation for recovery from adverse weather conditions.
Flight Monitoring and Response Plan
Al-Burhan Airways Operation Control Centre (OCC) is constantly monitoring flights using V2TRACK Hybrid Iridium Satellite and Cellular technology when aircrafts are airborne. The system allows 2-way messaging and sending alerts and is backed up by an on board-Satellite phone.
In addition to company aircraft response, our emergency rescue plan involves the deployment of a ground security team.